Add to favorites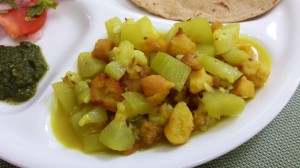 A quick simple recipe that uses minimal spices and pairs the sweetness of fresh lauki with moong dal badis also called mangoris. A dish that I find as comforting as it is addictive…a must try for all Lauki lovers!
Courtesy: Neela Awasthi Kumar
Method:
Peel and dice fresh young lauki into small cubes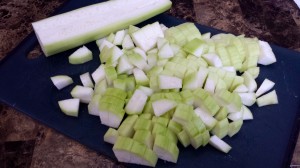 Measure out 1/2 tsp haldi, a hefty pinch of hing and a tsp of jeera.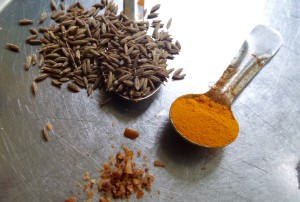 And about 1/2 cup moong dal badi/mangori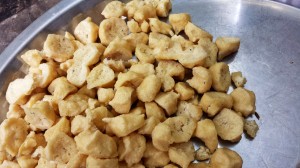 Heat a tsp of ghee + a tsp of oil in a pressure cooker and shallow fry the moong dal badi/mangori till lightly golden. Keep aside.
In the same pressure cooker, add a tsp of ghee, the hing followed by the jeera. Once the jeera crackles add the haldi and cook for a few seconds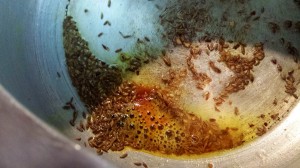 Now add the diced lauki, shallow fried mangori and 2-3 sliced green chillies along with 1/2 cup water and salt to taste.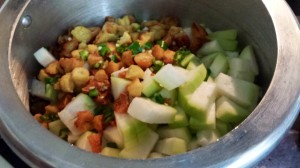 Give one light whistle or cook on low heat for about 5 minutes till lauki is tender and the mangoris are cooked through. Transfer to serving bowl. Finish with a squeeze of lime, garnish with fresh dhania.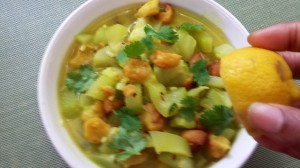 Serve with warm rotis!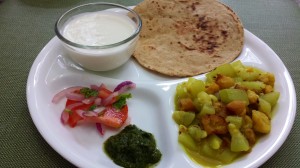 PS: As a variation you can add a small tomato (pureed) along with the lauki and in that case skip the lemon juice in the end!