Add to favorites
With Detox Day 5 the party begins! For the next two days Protein reigns supreme, and there is no end to the delicious meal ideas you can come up with!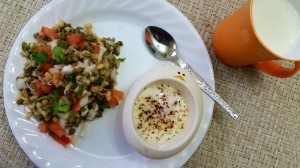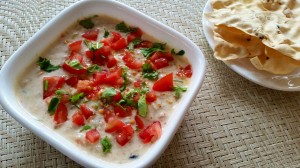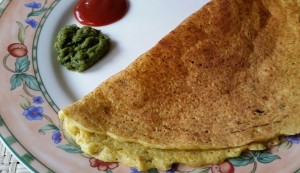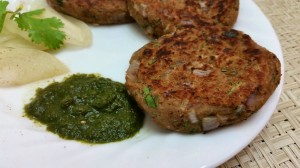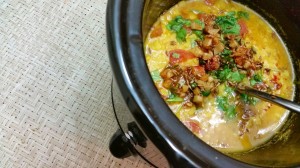 I started the day off with a steam poached egg and moong sprouts salad along with a cup of warm milk.
Mid morning snack…was delicious smoky roasted baingan ka raita/dip with some crunchy papad.
Lunch was a Besan-Gobhi ka chila with some spicy green chutney and Kisan Ketchup…I know I cheated on the ketchup! 🙂
Dinner was the star meal of the day….So indulgent and delicious , I forgot I was on a detox!
I had Veg Shaami Kabab made with lotus stems followed by warm udad ki dhuli dal that was made on slow simmer in my crockpot!
By the end of day 5, I have started feeling the changes from doing the detox.
As compared to before, I feel lighter, eat simpler and smaller meals that are way more satisfying!
Previous Account of day 5 of desi detox!
ROUND 2
Day 5: Protein Day!
Today I decide to use lentils in different ways to make creative dishes through out the day.
Breakfast was delicious Moong Dal Chilas with a cup of hot milk….extremely filling and satisfying! After 4 days of fruits, salads and soups….they tasted heavenly!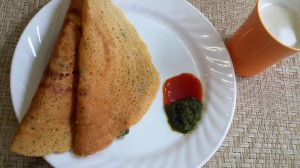 However lunch was the star meal of the day….I did a detox friendly chaat theme….Moong Dal Bhel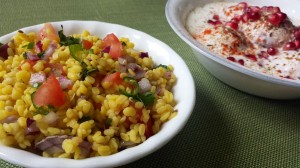 and No-fry Dahi Bhalle/Pakori.
The dahi Bhalle/Pakori were so light, soft & melt-in-the mouth yummmmm…that I just couldn't have enough of them!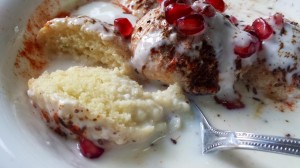 This meal was so much fun…I forgot I was detoxing! 🙂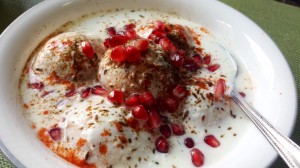 Dinner was aback-to-basics simple meal of lauki Chana dal ki Sabzi (made chattisgarhi style)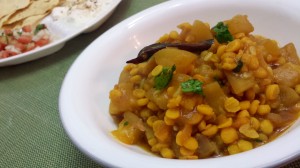 along with roasted papad, kuchumber salad and dahi.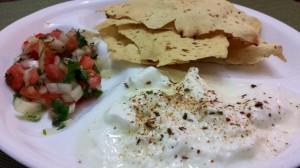 The protein intake between today and tomorrow…gradually nudges me back to every day food! At the end of the 5th day I feel exhilarated to be heading successfully towards the finishing line of yet another round of my desi detox!
ROUND 1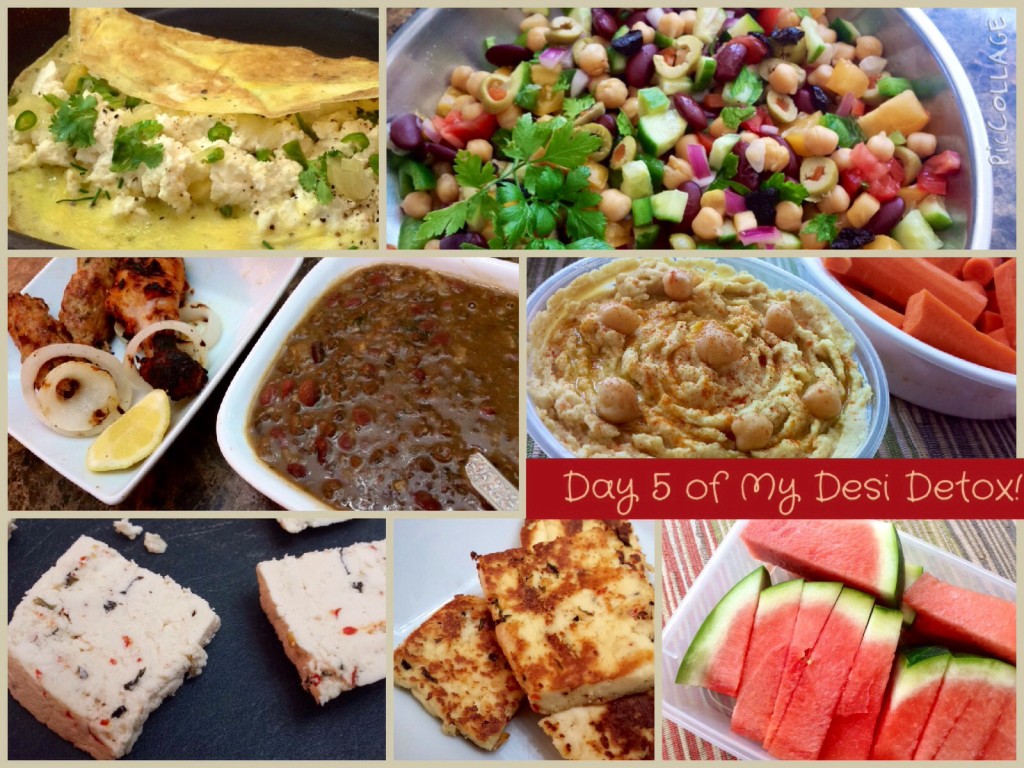 Breakfast was a deliciously indulgent protein packed Paneer Omlette.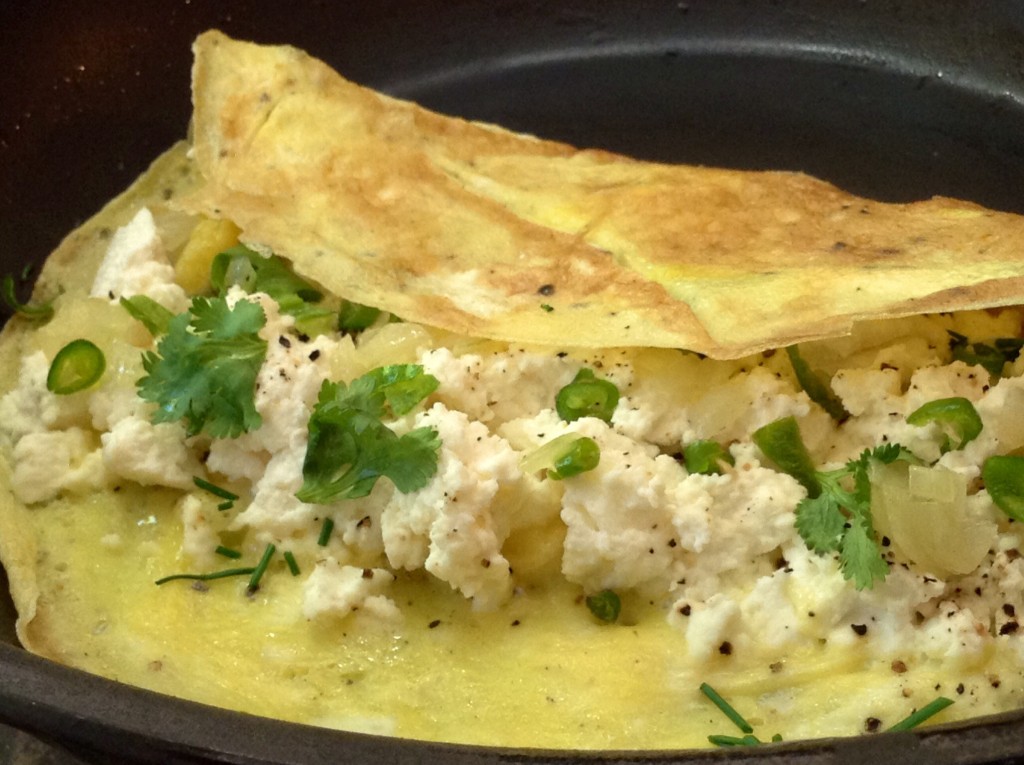 Lunch was a picnic we took to the beach consisting of homemade Chunky Hummus n Carrots and Chickpea Salad. Dessert was some sweet juicy watermelon.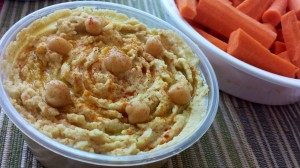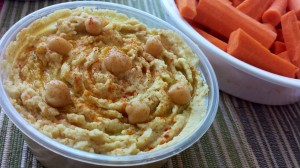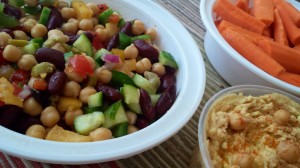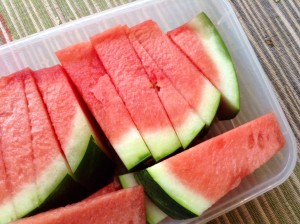 Evening snack was spicy Italian style Paneer which we enjoyed both plain and pan-seared with cups of Ayurvedic Spice Tea.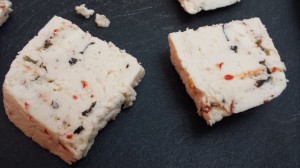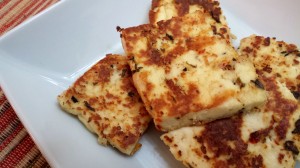 Dinner was a TGIF meal of Tandoori Chicken Drumsticks, Chicken Seekh and a big bowl of Maa ki Daal!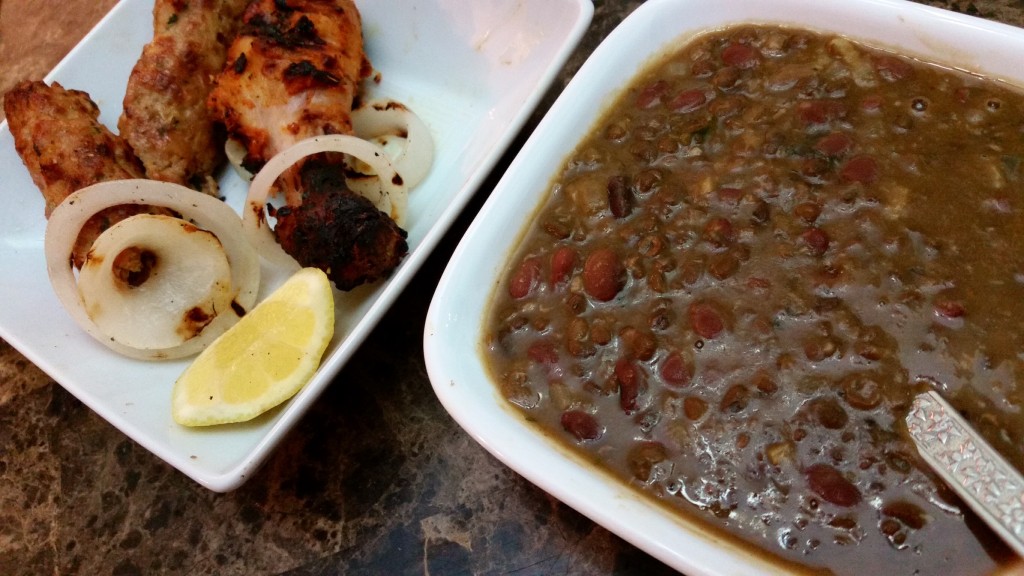 By the end of this day…I'm feeling so stuffed, satiated and sleepy…that I am barely able to finish composing this post! 🙂
Day-to-Day Desi Detox
About Detoxing…My Desi Way!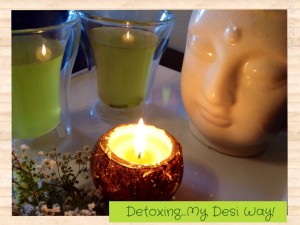 Day 1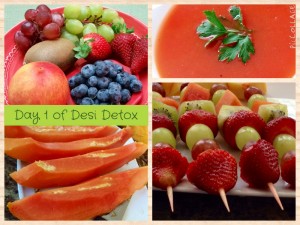 Day 2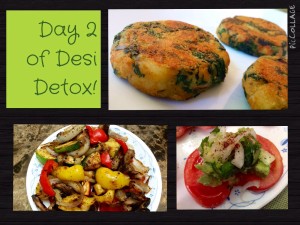 Day 3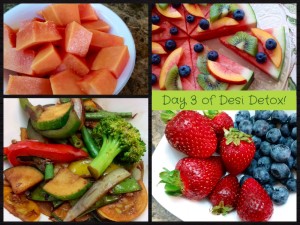 Day 4